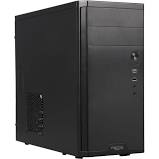 General Business Desktop
The General Business system is powered by the Intel 8th generation Coffee Lake micro-processor architecture. This system will support up to a Core i7 CPU, 32GB RAM, and while onboard graphics comes standard, it can be upgraded to a higher quality graphics card. This system is built for stability and dependability and is a great all-around desktop with lots of upgrade possibilities.

Get a Great General Purpose Business Desktop

MAXIMIZE LIFE AND PERFORMANCE
We professionally choose the parts, hand-build each and support your Business Desktops as long as you own it. These desktops are designed to be strong performers and highly reliable so you get maximum performance for all of your office tasks, web research, email and much more. These dependable systems are designed with upgrade ability in mind —-faster CPU, a high quality graphics card, more memory, or additional data storage so you can maximize the life of these systems.

AMAZING SUPPORT
Our Business Desktops carry CDO Technology's Lifetime Labor and Tech Support. If you need service and support, we don't ship your system off to a mysterious repair center. Your Business Desktop will be serviced by CDO technicians at our facility in Greenville, SC, USA and you will be supported by CDO employees.
CUSTOMER REVIEWS
Read what CDO's customers have to say:
Ten years ago, as a small business, we didn't have the knowledge or personnel to figure out what we needed to network our computers and systems. We brought in CDO Technology to analyze our workflow needs, software and work stations to bring us online with a server network, email, firewalls, etc. As we've grown, or had issues, we have depended on CDO to continue to service our needs and update our systems as needed. Technology changes so quickly and when that is not your main business, you don't have the time or knowledge to keep up to date or know what you need. We've relied on knowledge, service and personnel of the CDO Technology team to look out for us and help us throughout these many years. It gives me a sense of peace to know that we have the resource available to continue to help us on into the future. The CDO team has become an extension of our business… and we rely on them to fix whatever we did wrong!
Deborah Kingsbury
As the owner of a small business in Greenville, SC, one of my most important tools is my company's information, and that is stored on servers and accessed through our high-end Workstations. Literally, if we lose our data, we would essentially have to start over from scratch. For the last decade, The Kidder Group, Inc. has partnered with CDO Technology. Gary's team works with us to build custom hardware and software applications for our business. What I have found over the years is that Gary's team saves me about 30% over buying from a company headquartered in Texas. When I have a technical issue, I put the box in the car and go see his Tech Manager, Dale, since our servers and workstations have lifetime labor warranty. We conduct our business face-to-face and end with a firm handshake. I have also had his Onsite technicians come to my business when that is the best option for me. We continue to work together to specify the best components for long term survivability; for example, we put solid state hard drives in all our PC's. Yes, they are more expensive initially, but they simply don't crash. Gary and his team also designed and built our server with 5 levels of redundancy to ensure that our data is protected. In addition, his team installed a very simple Hard Drive back up system where we take our data off site each week and upload it to a server at my house to ensure that everything did backup and it does work. This is CDO Technology has earned my trust and my business. I recommend them as the best source for computer hardware and software.
Gary Tompkins