Day Trading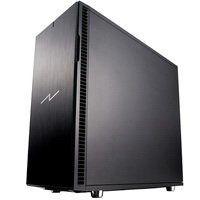 Volta Pro VP2
Amazingly fast, reliable, and efficient professional workstation that will look up and process massive amounts of data without lag, displaying them quickly to multiple monitors – features include up to a 20-core processor, SSD drives, up to 128GB of DDR4 RAM, and the capability to display up to 12 screens.


How CDO Helps You Be More Successful

QUALITY
Day Trading is a demanding field that requires absolute attention to detail and timing. You need a high performance trading workstation that displays and analyzes lots of data quickly and at CDO Technology we offer custom-built professional trading workstations to do just that.

CDO Technology builds powerful Day Trading Workstations that are amazingly-fast, super-stable, and have multi-monitor capability. During our custom building process, we use only the highest quality parts and put these workstations through rigorous stress tests. CDO's quality control standards are second to none to ensure that your Day Trading Workstation will be exceptional and support your business dependably for many years.

REMARKABLE PERFORMANCE
Processor speed and memory is key for a highly responsive day-trader system that can look up and display lots of data at once. Our single processor workstations eliminate the CPU and memory bottleneck allowing you to operate at high performance when looking up information and making trades.

Your graphics card does not need to be especially powerful but it needs to support multiple monitors. We have a variety of graphics cards combinations to choose from that can support up to twelve monitors at the same time. Lastly, a solid-state drive (SSD) is critical to provide the speed that day-traders demand — the OS and programs should be installed on the SSD and a second hard drive can be installed if additional data storage is needed.

We will help you weigh these choices – enhancing the configuration for your perfect Day Trading Workstation, and maximizing the system performance all within your budget. Our service doesn't stop after we get your money – we support you for the life of your Professional Trading Workstation.

UNBELIEVABLE SUPPORT
CDO Technology provides all of our custom-built systems with an industry leading warranty. Your Day Trading Workstations is protected against defects in materials and workmanship with our Lifetime Labor and Tech Support coverage and one year parts warranty. When you need service, we don't ship your system off to a mysterious repair center. Your workstation will be serviced by CDO technicians at our facility in Greenville, SC and when you contact us, you will be helped by an actual CDO employee.

CUSTOMER REVIEWS
Read what CDO's customers have to say:
CDO Technology saved me roughly 35% on my latest Day Trading Professional Workstation, and kept me running in my trading operation by providing me with great equipment, great service, and the ability to recover quickly from problems I may have from time to time running a trading network from my office. I can list a lot of things you guys have done for me, but here is the most recent one

I checked my older computer in for repair service as it showed a boot drive error and I asked them to repair it and replace the hard drive. A sharp technician noted, in stepwise fashion (imagine that in these days of snap-together machinery), that when he replaced a power supply, the hard drive, instead of slipping and showing a boot drive error, actually BOOTED up, saving the drive and preserving the data. To verify, he called me to make sure that I did NOT want to replace that drive (which I do not, if the drive is still good), saving me around $150 and the time it would take to restore the drive from remote back-up. I will soon have that machine back in tow as my internet marketing machine (and secondary optimization back-up for trading models), and be up to full speed very soon. You DO NOT get that kind of service from the typical computer supply or electronics repair operation. I would have tried to repair it myself, but I just ran out of time. They are truly becoming my right hand assistants over there. I really appreciate it.

David Buffalo
We continue to leverage CDO Technology for our customer's servers and workstations because we have received excellent service and support over the last decade that we have been doing business with them. No matter how strange our request they always seem to get it done.
Dianna